DESSERT MENU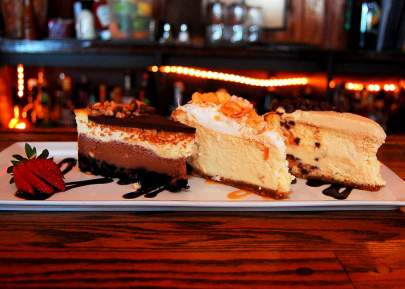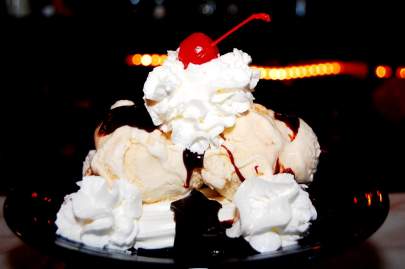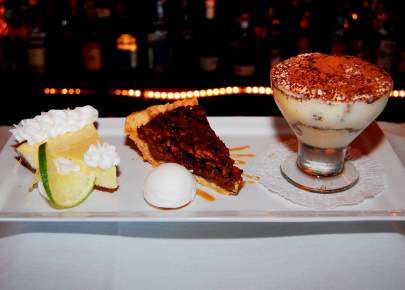 With the exception of ice cream, sorbet and Chocolate Lava Cake, all of the desserts at the Ocean Grill are homemade. A baker is in the bakeshop daily working hard to satisfy your sweet tooth!
SCHAUM TORTE
This is a house specialty. A hard meringue shell made of egg whites and sugar, beaten until stiff and slow-baked becomes a melt-in-your-mouth confection. We top it with two scoops of Haagen Dazs ice cream and your choice of hot fudge, strawberry, chocolate, caramel, or a combination. Finish with a whipped cream peak in the center, two swirls of cream on the edge of the torte and a cherry on top. Big enough to share . . . if you must!
BAILEY'S IRISH CREAM CHOCOLATE CHIP CHEESECAKE
Homemade cheesecake laced with Bailey's Irish Cream whiskey and chocolate chips. Our bakers top it with a dense whipped cream coating and a thick band of chocolate chips all around the rim. A customer favorite for good reason!
MACADAMIA COCONUT CHEESECAKE
Homemade cheesecake made with coconut cream, then topped with a dense whipped cream coating with coconut and Macadamia nuts. A slice of this will make you choose Florida over Hawaii any day of the week!
KEY LIME PIE
A favorite of customers at the Grill, our key lime pie is homemade daily with key lime juice and sweet graham cracker crust. This marriage of sweet and sour is finished with a dollop of whipped cream. This is the real thing!
BROWNIE SUPREME
Homemade brownie swirled with cream cheese before baking. NO NUTS! Each square is heated and topped with a full scoop of vanilla Haagen Dazs ice cream. Hot fudge is drizzled over the top, and of course, it's finished with a whipped cream peak and cherry. Everyone knows this dessert . . . but until you've had it here, you don't know how good it can be!
PECAN PIE
Ours is the best in the South! Homemade pecan pie loaded with nuts and gooey filling, served with a petite scoop of vanilla Haagen Dazs ice cream. It'll have you saying "Y'all" by the time you finish!
TIRAMISU
The name means "carry me up," and many who eat it consider the end of the thought to be "to heaven" because of the delectable taste. Individually portioned in a footed glass bowl, ladyfingers soaked in espresso, dark rum and amaretto are layered with ultra-rich Italian Marscapone cream cheese and grated chocolate. Made daily on premise. The name says it all!
FLAN
This famous Spanish baked custard is made in-house by caramelizing sugar in the bottom of a serving cup, filling with custard, and baking in a water bath. The recipe is from the coffers of Mary Ellen Replogle, which in itself is enough to prove its value to local residents. In addition to running the Ocean Grill for many years, Mary Ellen's gift of hospitality translates well in her private kitchen and has been a boon to Ocean Grill's success. When you don't think you can fit another thing into your full tummy, this flan will prove you wrong. And you'll be so glad it did!
CRÈME BRULEE
Translated "burnt cream," this chilled custard is light, super creamy, and made in-house daily. Before we serve this delicious homemade custard, we top it with granulated sugar and caramelize to a crunchy coating. Light and sweet, the perfect ending for a wonderful meal!
ALMOND PRALINE BASKET
Our bakers create a praline shell with flour, sugar, almonds, and butter. We fill it with one scoop vanilla Haagen Dazs ice cream, one scoop raspberry Haagen Dazs sorbet, and a sprinkling of fresh berries. Topped with whipped cream peak in the center, you can "pretend" you ordered the "healthy" dessert while you go into tastebud heaven!
TRIPLE CHOCOLATE CHEESECAKE
Homemade cheesecake featuring Oreo cookie and
Heath bar crust. Three decadent layers include Belgian dark chocolate laced with Frangelico hazelnut liqueur, white chocolate, and semi-sweet chocolate. The bakers have garnished the top with crushed Heath bar - as if it wasn't "over-the-top" already!
BIRTHDAY CAKE
This double layer 7" round yellow cake features white buttercream frosting in beautiful rosette swirls. Our bakers have a knack with this cake, making it a to-die-for treat. Birthday cakes are $15.00, and there is enough to serve a slice to everyone on parties up to 8 people. Homemade daily. Our crew would love to sing for the birthday person!
CHOCOLATE LAVA CAKE
What could be better than your own warm chocolate bundt cake with a river of decadent chocolate ganache running through it, then cooled off with a petite scoop of rich vanilla Haagen Dazs ice cream....yum!